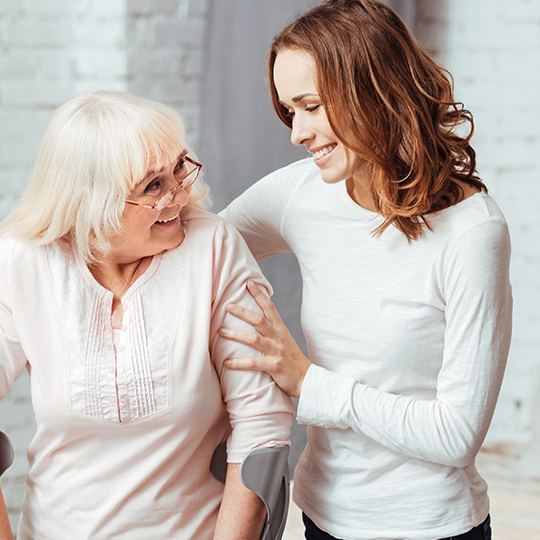 The Therapy Suites at Woodbury Health Care Center
The Therapy Suites at Woodbury Senior Living is a Transitional Care program that bridges the gap between hospitalization and home. We combine the latest technology, clinical expertise, and caring support to help you heal.
Whether you're healing from a surgery, illness, or injury, our rehabilitation experts are here to help you recover.
We accept admissions 24/7 so that you or a loved one can get the care they need when they need it. Contact us to schedule a tour or inquire about admissions.
What Is Transitional Care?
Often, people find themselves in a position where they aren't sick enough to remain in a hospital but are too sick to return home. Transitional care is specifically designed to fill this gap.
Our Transitional Care apartments offer a homey feel while providing necessary medical care. All Transitional Care apartments are located in the Woodbury Health Care Center near our Rehabilitation and Therapy department for easy access to whatever care you need.
The Therapy Suites are Medicare and Medicaid certified.
Transitional Care May Be Right for You If…
You've had recent surgery, illness, injury, or medical condition that requires ongoing care.
You've had a major medical event, like a stroke or heart attack.
You need advanced care that family can't provide, like a special diet or wound dressing.
Your rehabilitation requires specialties like physical therapy, speech therapy, or respiratory therapy.
You require specialized care to be comfortable, like pain management or continence management.
Our Rehabilitation & Therapy Services
Our onsite staff includes a wide variety of specialists to ensure you get the necessary care.
Some of these services include:
Services
24-hour skilled nursing
Physical therapy
Occupational therapy
Speech therapy
Pain management
Wound care
Continence management
Stroke rehabilitation
Comprehensive cognitive therapy
Memory support from dementia-certified staff
Cardiac care
Pulmonary care
Neurological care
Orthopedic care
Dining program with menu choices & special diet accommodations
IV therapy & tube feedings, if needed
Integrative therapies like music therapy, guided imagery, essential oils, massage, & energy-based healing
Onsite chaplain & spiritual services
Discharge planning
Apartment Amenities
Our apartments are designed to be safe and secure to ensure our residents feel as comfortable as possible.
Private rooms with no private room surcharge
Electric recliner
Cable TV
Wi-Fi
Telephone
Close proximity to our Rehabilitation & Therapy department
Experience the Woodbury Senior Living Difference
Experience Our Community
See Woodbury Senior Living for yourself. We would be happy to show you around and discuss our lifestyle options.
Email Us
Our Address
7012 Lake Road
Woodbury
,
55125