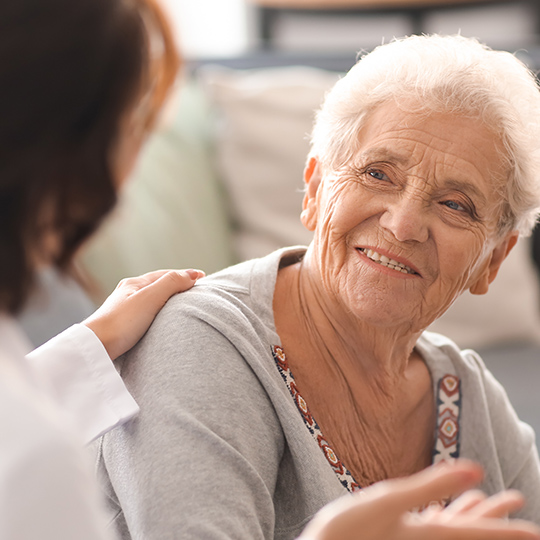 Therapy Suites at Woodbury Health Care Center
For residents who need round-the-clock care, we have skilled nursing. Skilled nursing is provided by registered nurses with support from therapists, assistants, and advanced rehabilitation equipment.
Whether you require short-term or long-term care, we provide the tools and the environment to rehabilitate. Our Skilled Nursing apartments offer the best of both worlds, with a homey feel that's still close to all medical services in our Woodbury Health Care Centre.
We accept admissions 24/7 so that you or a loved one can get the care they need when they need it. Contact us to schedule a tour or inquire about admissions.
What Is Skilled Nursing?
Our Skilled Nursing program is designed for residents who need 24/7 care, including those who are transitioning from a hospital stay but are still too sick to return home.
We use the latest technology and medical expertise to promote healing and rehabilitation. Our caring staff supports our residents in all areas to keep them as comfortable as possible, from assistance with daily tasks to specialized therapy.
Skilled Nursing Care May Be Right for You If…
You require round-the-clock care, 24-hours a day.
You need assistance with daily living activities, like bathing, dressing, grooming, and moving around.
You need daily care from registered nurses, therapists, and other medical professionals.
You've had recent surgery, illness, or injury that requires advanced, ongoing care.
You require ongoing care due to a medical condition, like stroke rehabilitation, diabetes management, or dialysis.
You need specialized care to be comfortable, like pain management or continence management.
Our Skilled Nursing Services
We have a variety of specialists onsite, from nurses to therapists, to make sure you get the services you need. Some of these services include:
24/7 nursing care from registered nurses
Onsite, licensed social workers
Pain management
Continence management
Dialysis support
Wound care
Stroke rehabilitation
IV therapy
Diabetes management
Physical therapy
Occupational therapy
Speech therapy
Integrative therapies like music therapy, guided imagery, essential oils, massage, & energy-based healing
Assistance with daily activities (bathing, dressing, grooming, etc.)
Dietician-supervised dining program, including menu choices, special diets, & snacks
Onsite chaplain & spiritual services
Apartment Amenities
Private & semi-private apartments
Emergency nurse call buttons
Close proximity to in-building medical services
Dining room & in-room dining services
Cable TV
Phone
Wi-Fi
Experience the Woodbury Senior Living Difference
Experience Our Community
See Woodbury Senior Living for yourself. We would be happy to show you around and discuss our lifestyle options.
Email Us
Our Address
7012 Lake Road
Woodbury
,
55125