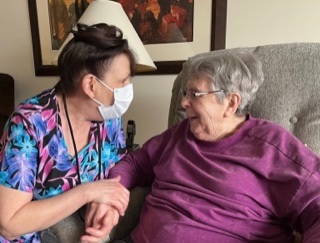 Elaine smiles big and warmly greets integrative care specialist Katie Cook Fjelstad when Katie knocks and enters her apartment at the Villa apartments at Woodbury Senior Living. Elaine is on Katie's list for a visit this week. This usually involves a foot massage. "Katie does such a good job and it feels so good," she says. They talk while Katie massages her feet. At the end of the visit, Elaine remarks, "I always look forward to when Katie comes. We chat and we have a good time!" Katie's visits around campus are a core part of the integrative services we offer for comfort, relaxation and wellbeing.
Celebrating 10 years

The Woodbury Senior Living Integrative Health & Wellness program is marking 10 years in spring 2023. Founding director Amy Quarberg, MA, RN, was hired in 2013 to begin a pilot program. The benefits of the program quickly became apparent. Since then, many residents have enjoyed the chance to receive integrative therapies for comfort and relaxation. We use these non-pharmacological practices as we seek effective ways to support health and wellbeing.

Integrative Health and Wellness staff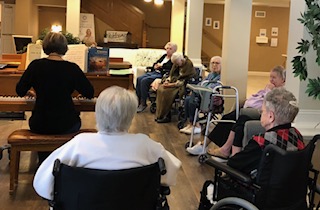 Rachel Trelstad-Porter, DNP, RN, started on the Woodbury campus in 2015. She currently directs the integrative health & wellness program for the 3 Senior Care Communities campuses in the Twin Cities metro area (Woodbury Senior Living, Providence Place in Minneapolis, and Birchwood Senior Living in Forest Lake). Rachel loves playing piano on occasion for residents, and also plays the Reverie harp at the bedside.
Katie Cook Fjelstad, integrative care specialist since 2018, won the "Rising Star Award" from the MN Care Providers at the state convention in 2019 for her passion for her work and early accomplishments. Both residents and staff appreciate Katie for the way she pays attention to both physical and social-emotional needs.
Collaborating across campus

We work with various departments on campus. We often coordinate with Community Life to plan for special events. We've helped to host active living events, outdoor festivities, and a winter solstice labyrinth. We've planned essential oils sampling activities, Florence Nightingale visits, and experiential educational sessions with ideas for health and wellbeing. In addition, residents enjoy spa events with a chance to receive hand or neck massages, refreshments, conversation, and a warm, moist cloth from the hot towel (Oshibori) oven. Periodically we hold spa days for staff to say thank you for the incredible work they do every day.
The interdisciplinary team gives us referrals for residents experiencing pain, anxiety, nausea, insomnia, depressive symptoms. Or it may be a request for a stop in to support general wellbeing and adjustment. Our services are offered free of charge. Staff is given the chance to offer integrative therapies to the residents with a basket of essential oils on all units. Also, staff is also encouraged to use music, imagery, as well as massage for comfort measures. We often use the C.A.R.E. channel with nature and instrumental music.
Supporting health and healing

Several volunteers have participated in the integrative health and wellness program. Volunteers give hand and neck massages in addition to sharing special moments of engagement and belonging with the residents. The COVID-19 pandemic disrupted our volunteer base, however, we're happy that we have been able to open the door to volunteers again.
We work with our chaplains, end of life doulas, nursing staff and many other staff in providing a comforting environment during the final days of a resident's life. Our visits often include conversations during periods of grief, loss and transition.
We've been hosting events on campus this spring to celebrate the ten years of supporting health and healing. We keeping discovering ways to do this, and we're grateful for that.

Rachel Trelstad-Porter, DNP, RN, is the Director of Integrative Health & Wellness for the Senior Care Communities